50,000 men from Leicester and Leicestershire served in the First World War
Leicester's key industries were all helping the war effort, making products for the military
A temporary war memorial in Town Hall Square was replaced by the permanent memorial at Victoria Park, unveiled in 1925
Recruiting at the Town Hall
Following the outbreak of war on August 4th 1914 the part-time soldiers of the Leicestershire Regiment Territorial Force and the Leicestershire Yeomanry were mobilised. Magazine Square was used to enlist and drill local soldiers. It was soon obvious that many more men were needed and a recruitment centre was set up at the Town Hall. Recruitment parades were organised and public meetings were well attended. Eventually about 50,000 men from Leicester and Leicestershire served.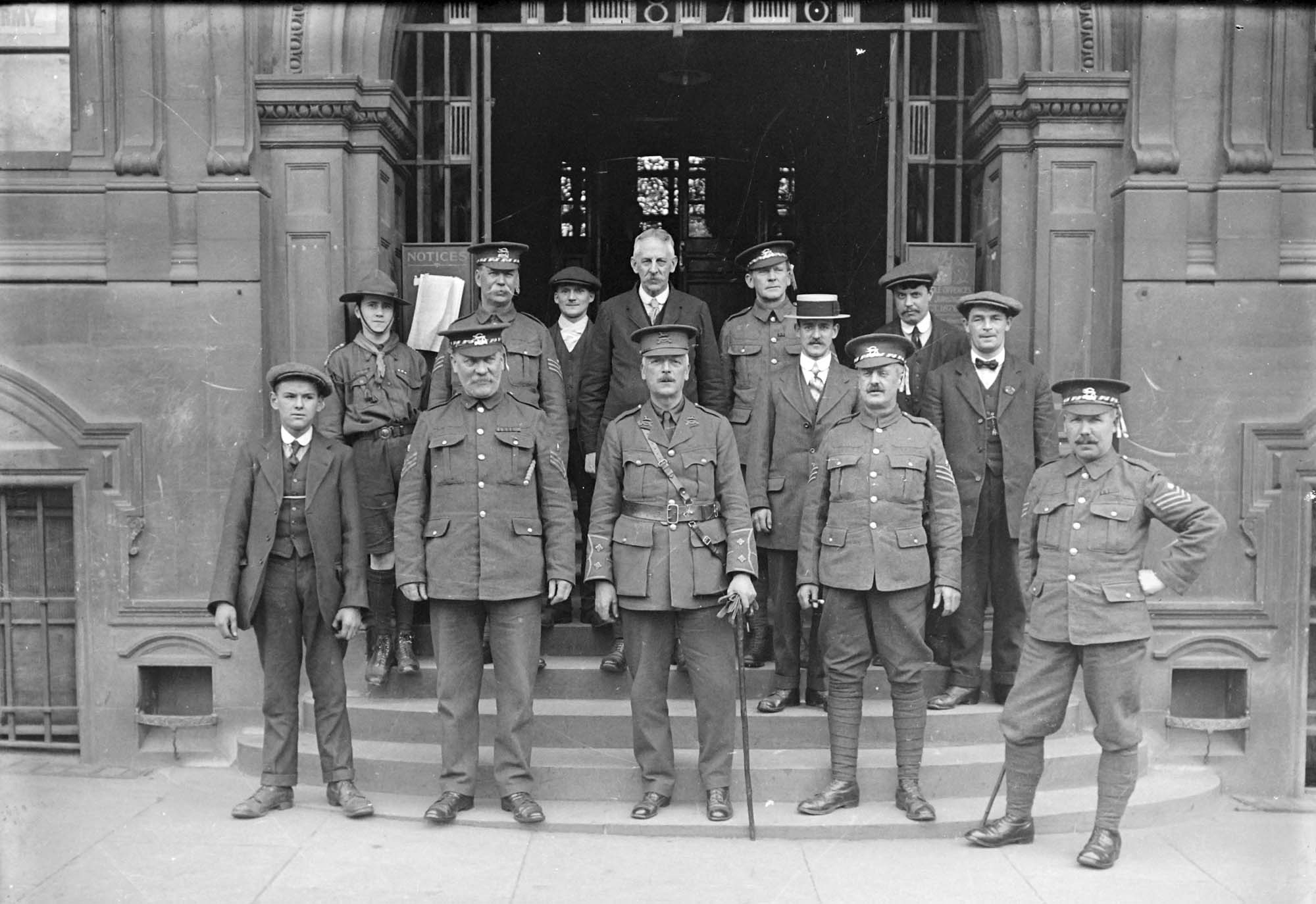 Religious and political opposition
Leicester had a tradition of political and religious dissent. One of Leicester's M.P.s, Ramsay Macdonald had initially opposed the war and continued to campaign for a 'just war'. Others opposed the war on religious grounds and some were imprisoned as conscientious objectors
Leicester's industry is mobilised for the war effort
Two of Leicester's key industries at the outbreak of war were the footwear and hosiery trades. Hosiery companies such as Corah and Pick were able to produce large quantities of underwear, socks, hats and cardigans for the military. The footwear industry also went in to full time production of army boots and this provided regular work for men and a large number of women.
In the engineering sector companies such as British United Shoe Machinery Company were involved in weapon production and lens manufacturer Taylor Hobson produced photographic lenses and artillery range finders.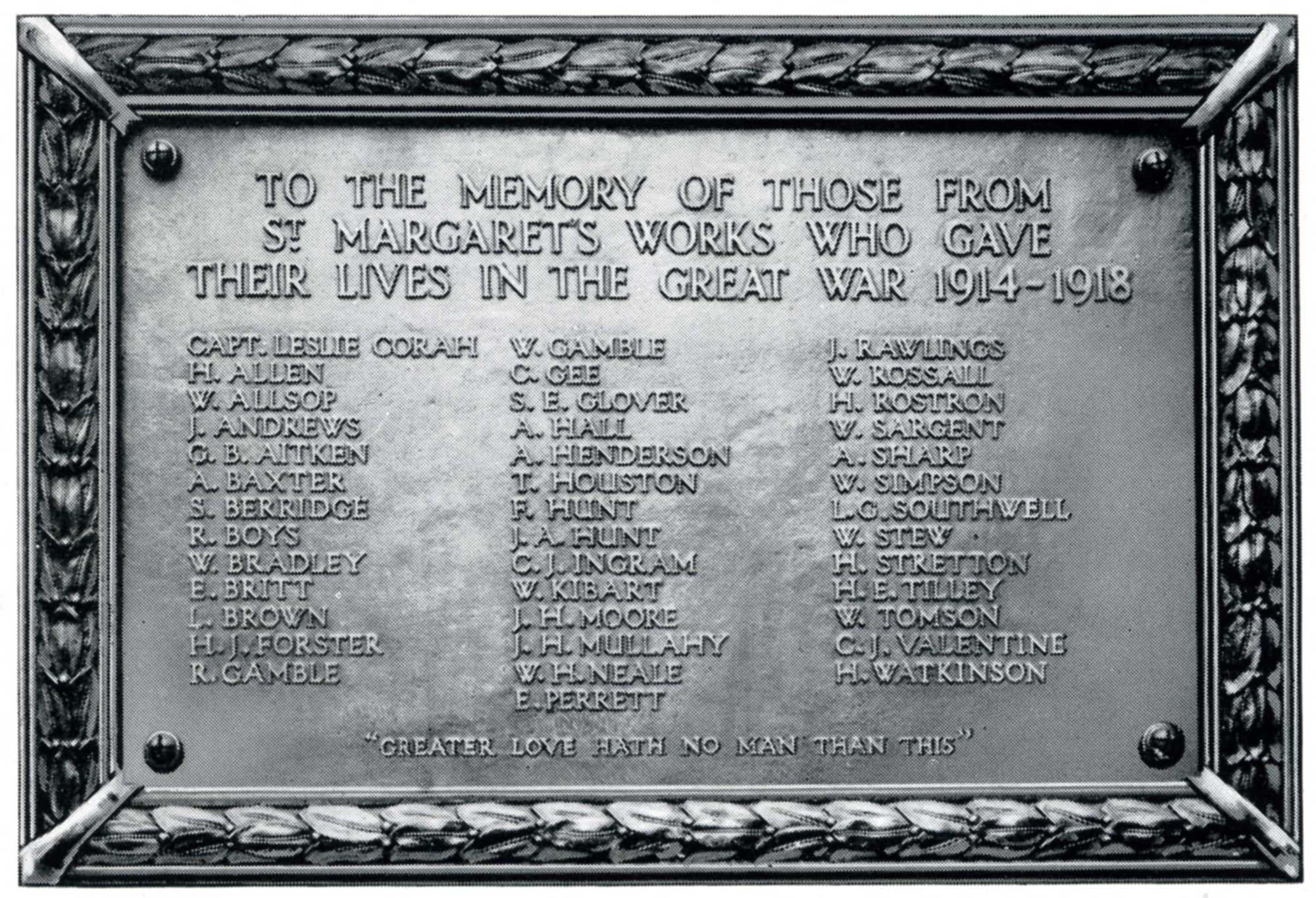 Everyone plays their part
The nature of the war meant that all sections of society were involved in some way. For many years women had played a key part in Leicester's industry and more women replaced men who enlisted. Many more nurses were required especially for military hospitals both in Leicester and at the Front.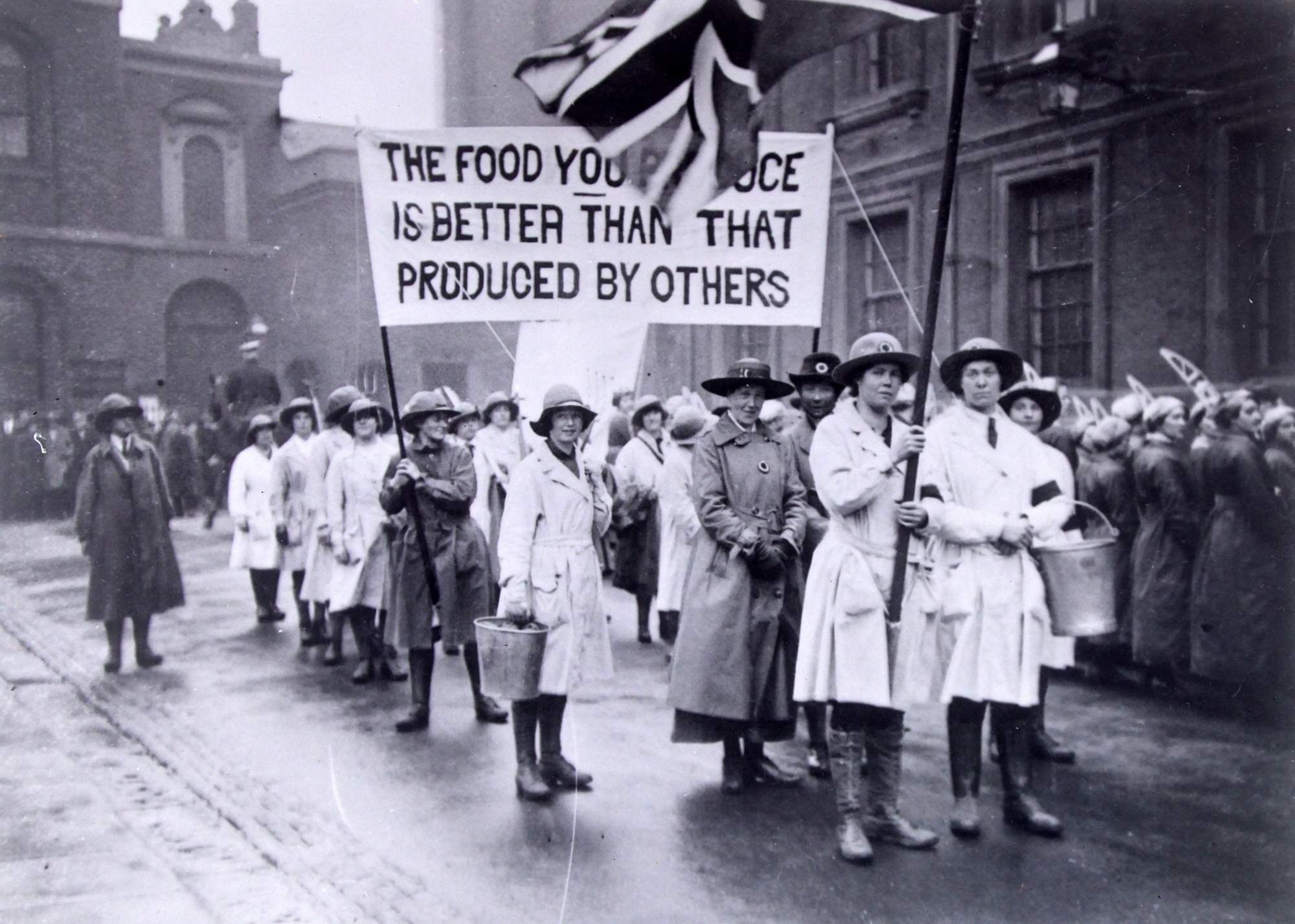 Charities and the role of the Mayor and Mayoress
Many charities were launched to provide aid for wounded servicemen, Belgian refugees, war widows and later unemployed ex- servicemen. Women and children were amongst the most enthusiastic of charity volunteers. In 1919 their Majesties, King George V and Queen Mary paid a formal visit to Leicester and knighted the war time mayor, Alderman Jonathan North in a ceremony at DeMontfort hall.
9,348 men from Leicester and Leicestershire lost their lives during the five years of conflict. In 1925 a permanent War Memorial in Victoria Park was unveiled to commemorate their sacrifice.
Timeline
Continue the story
Visitor information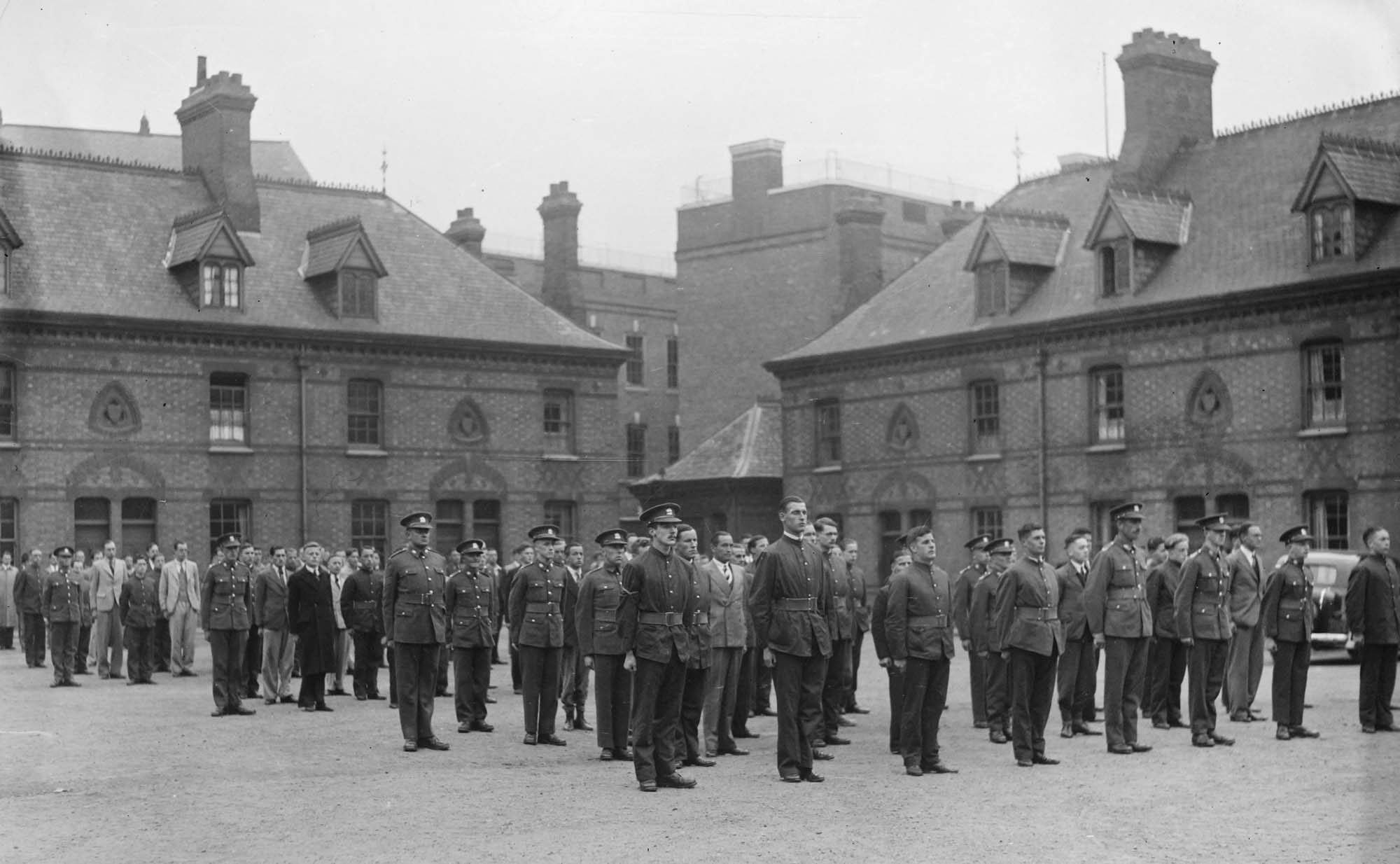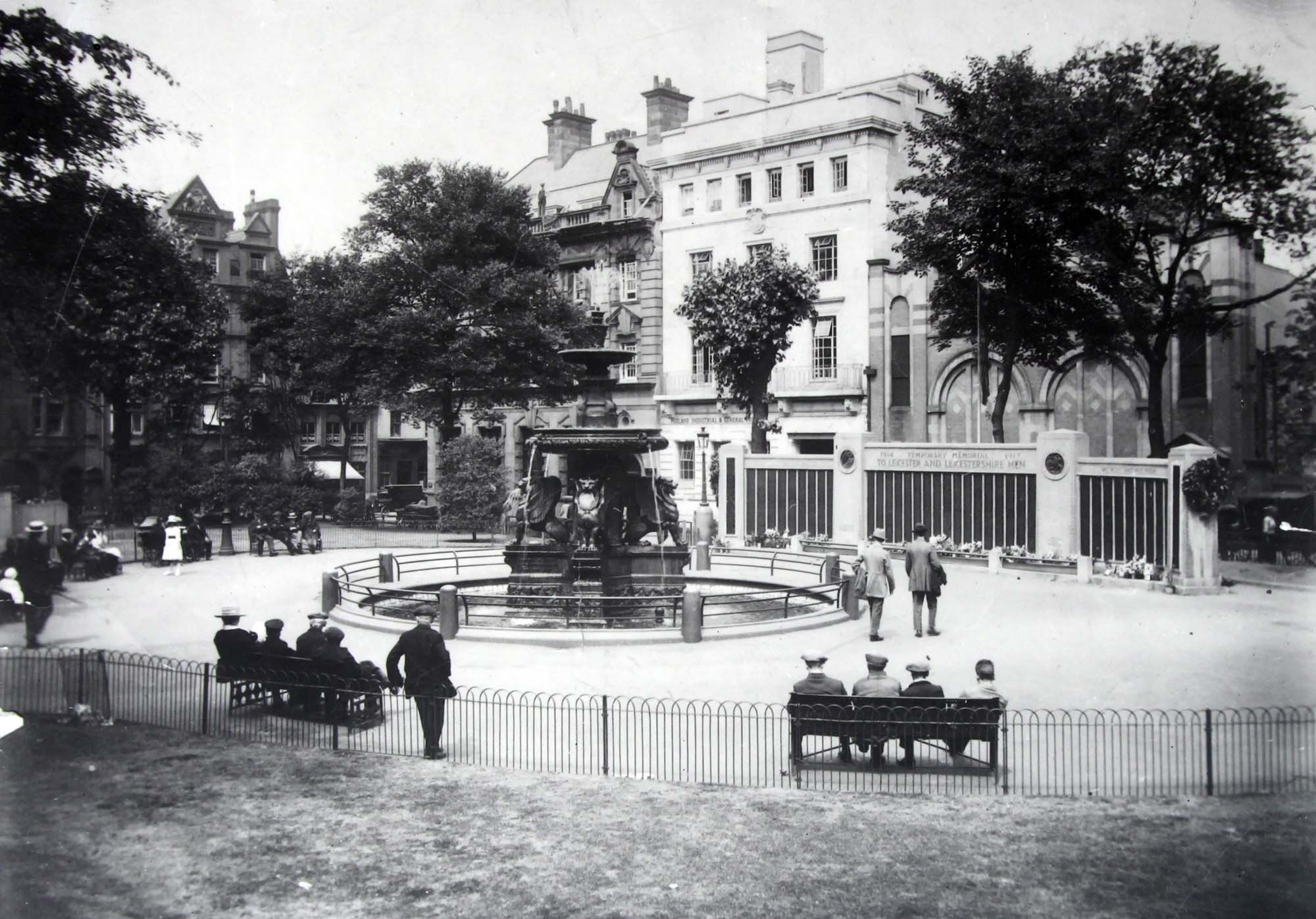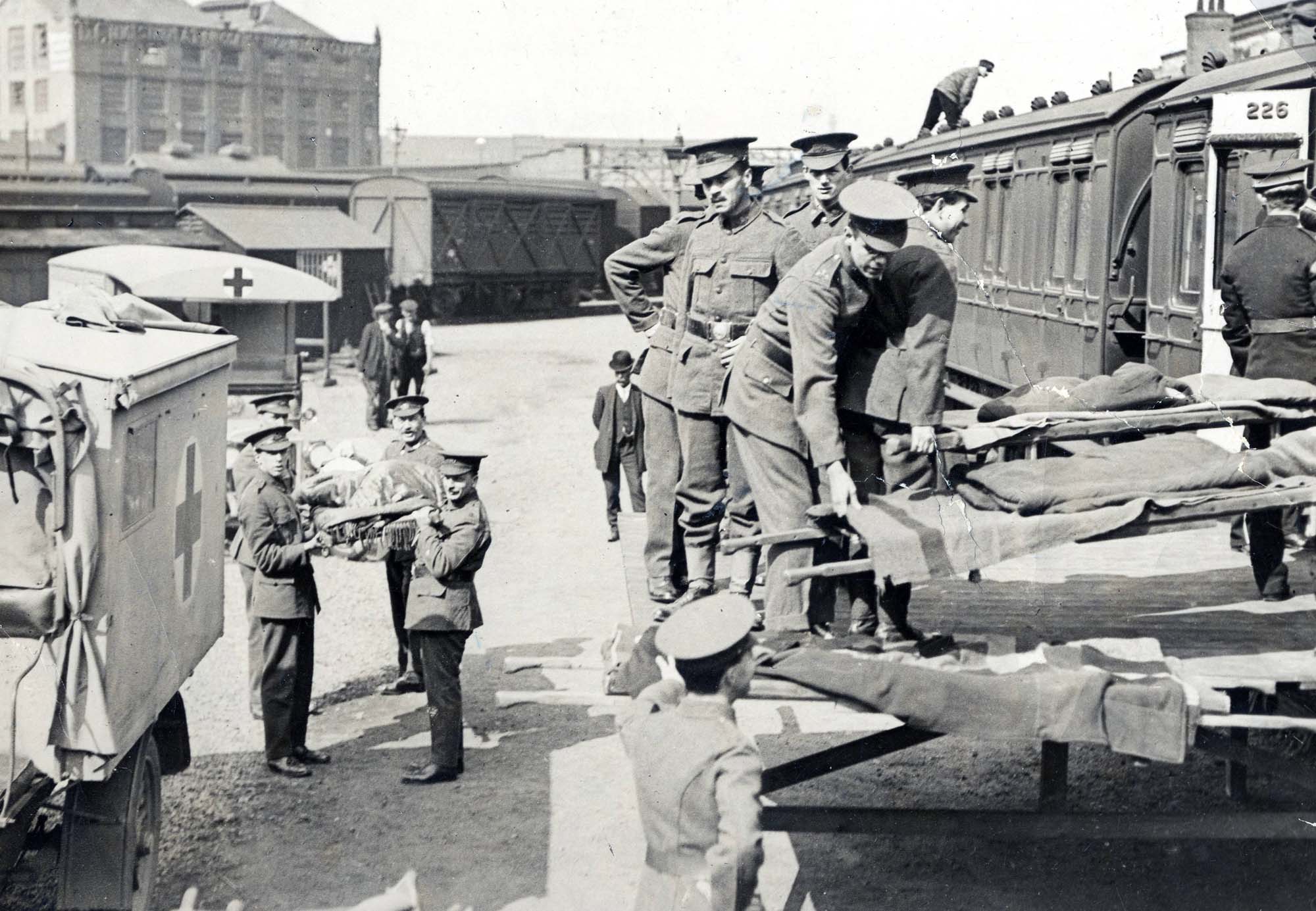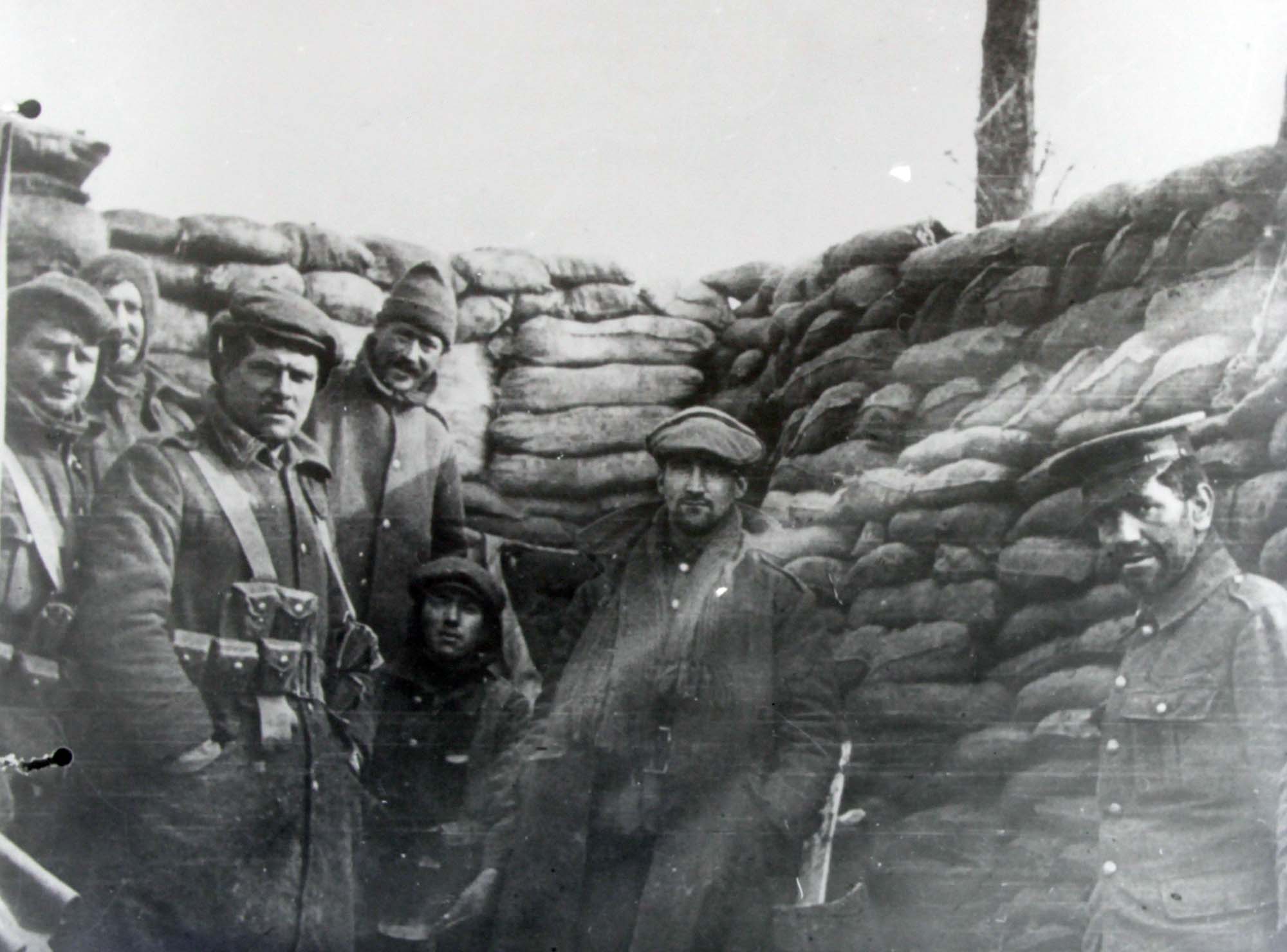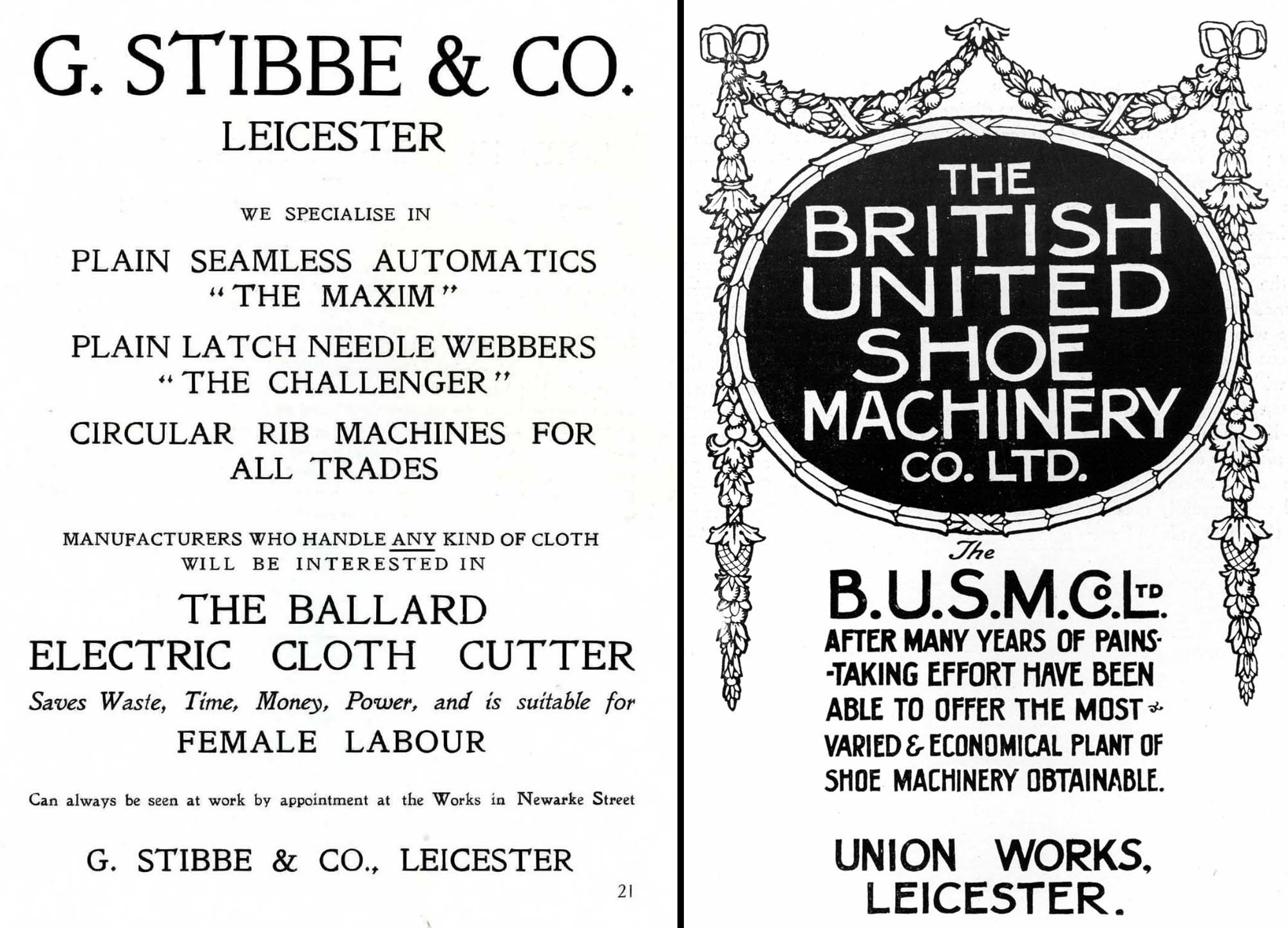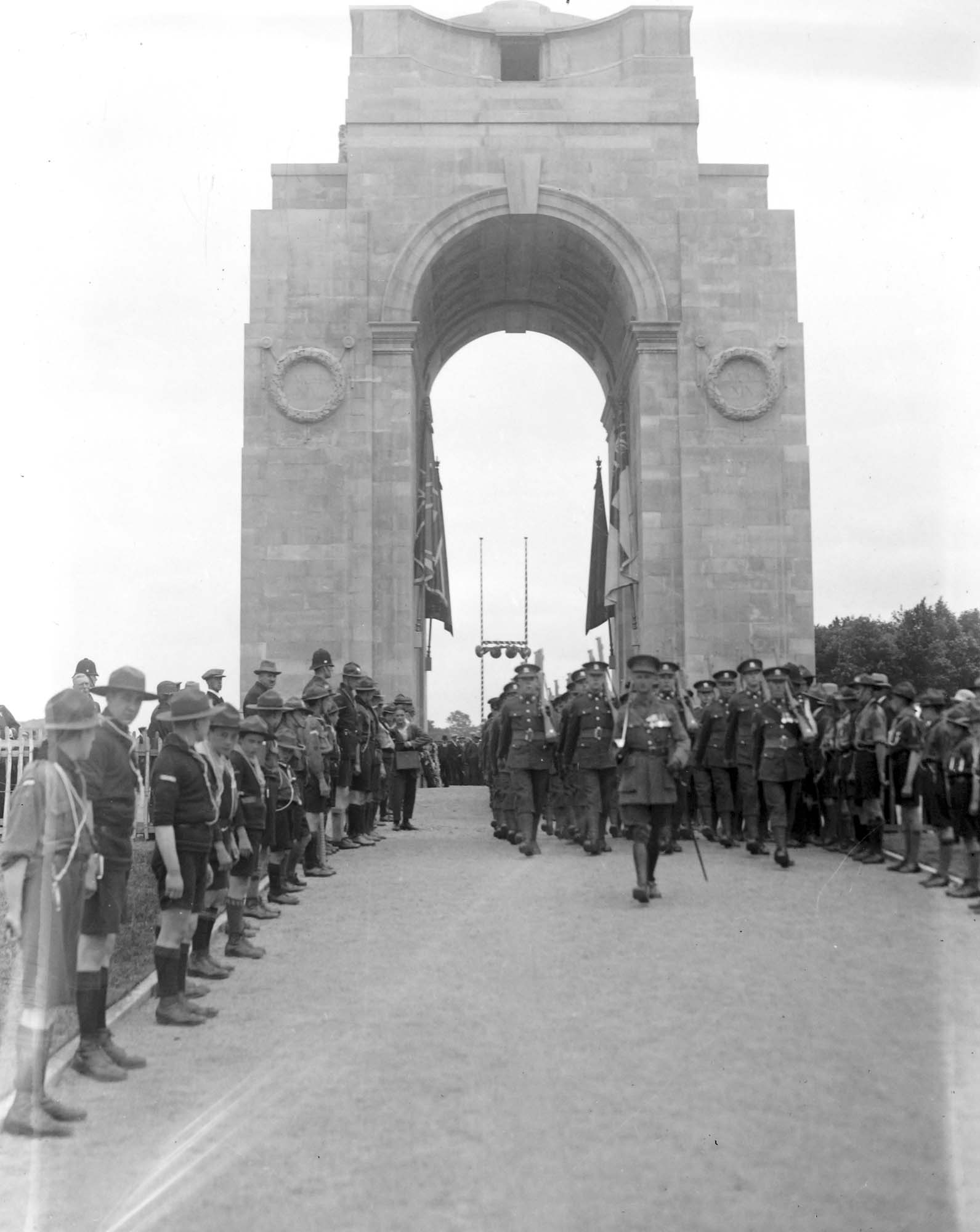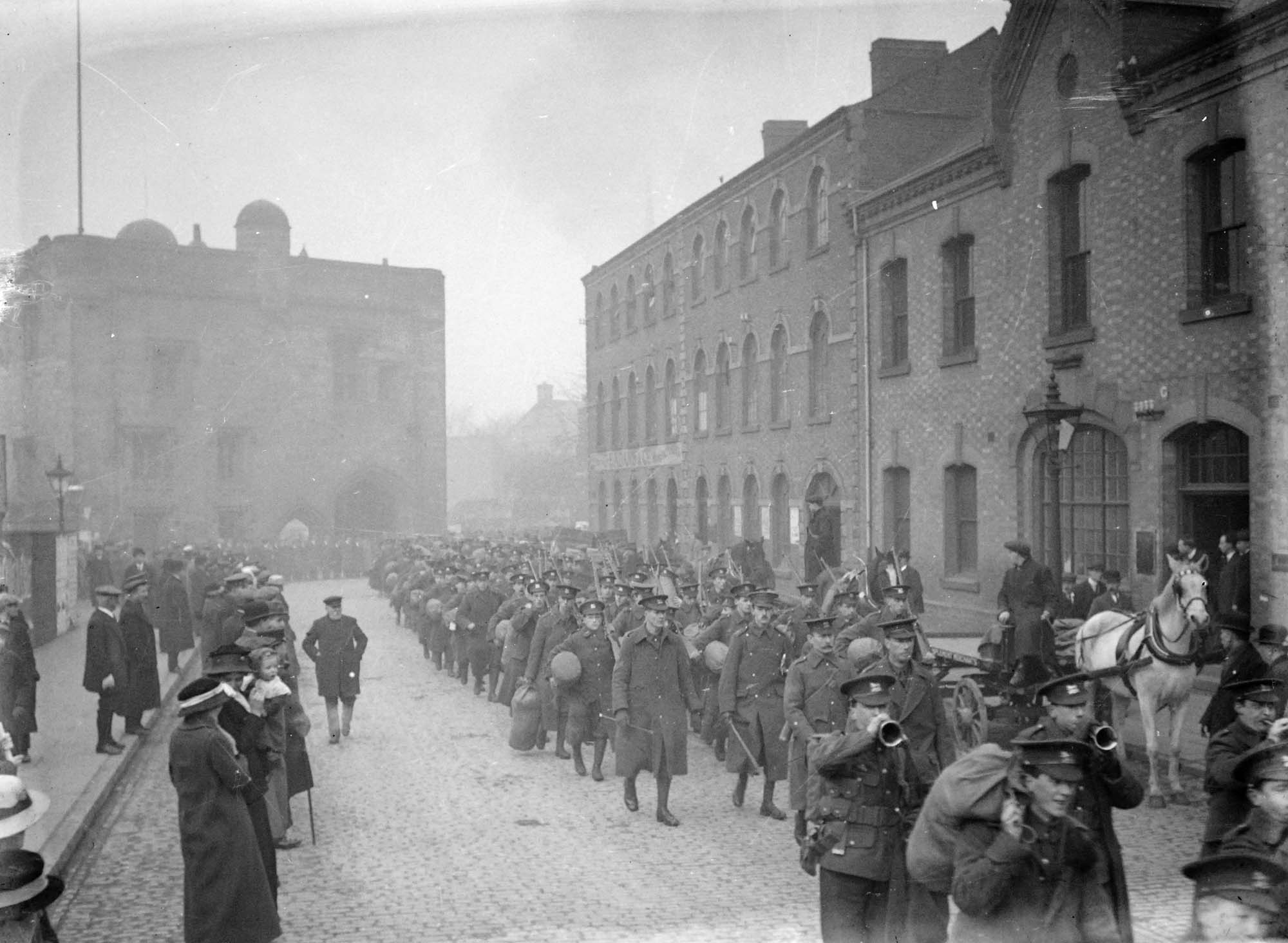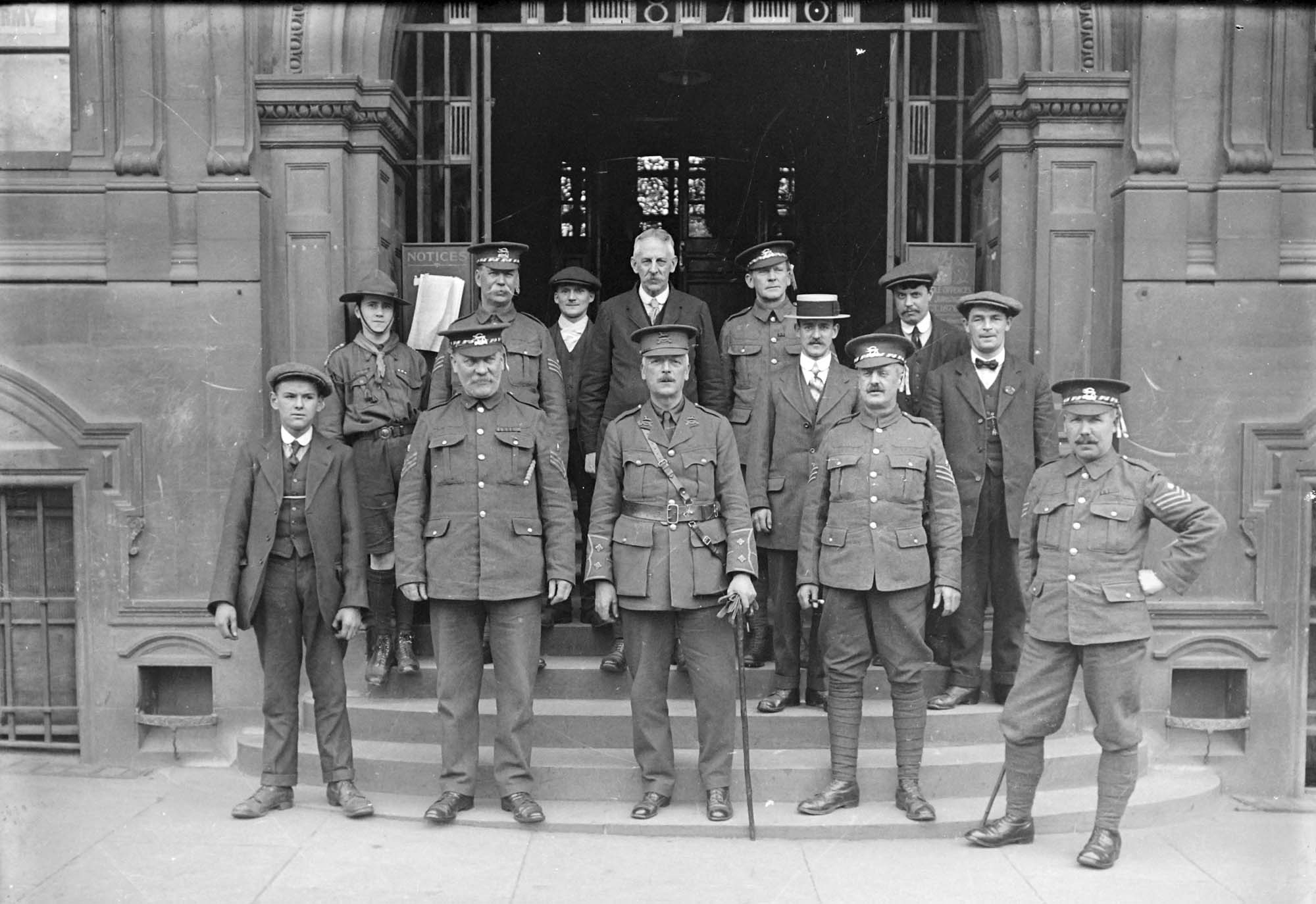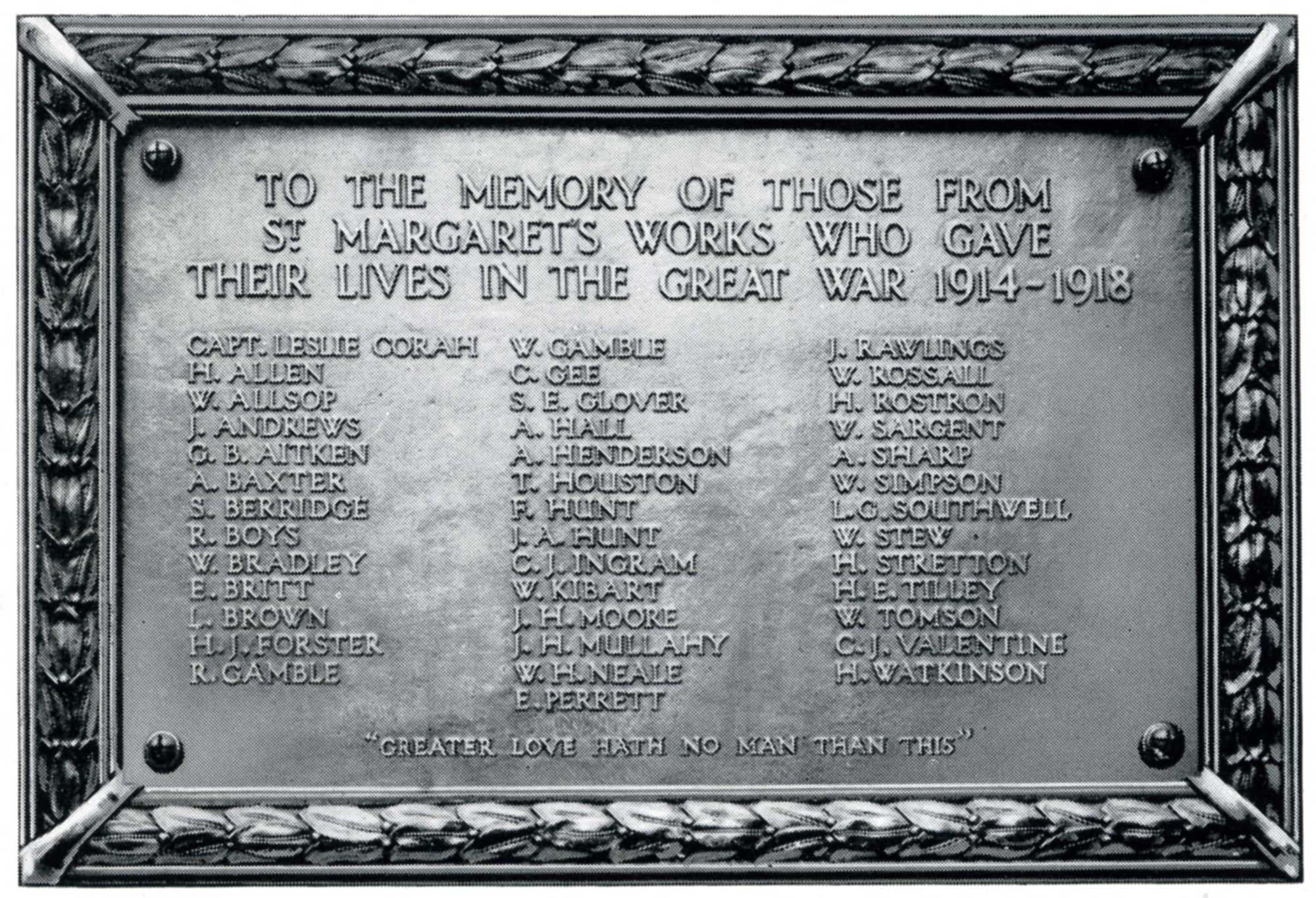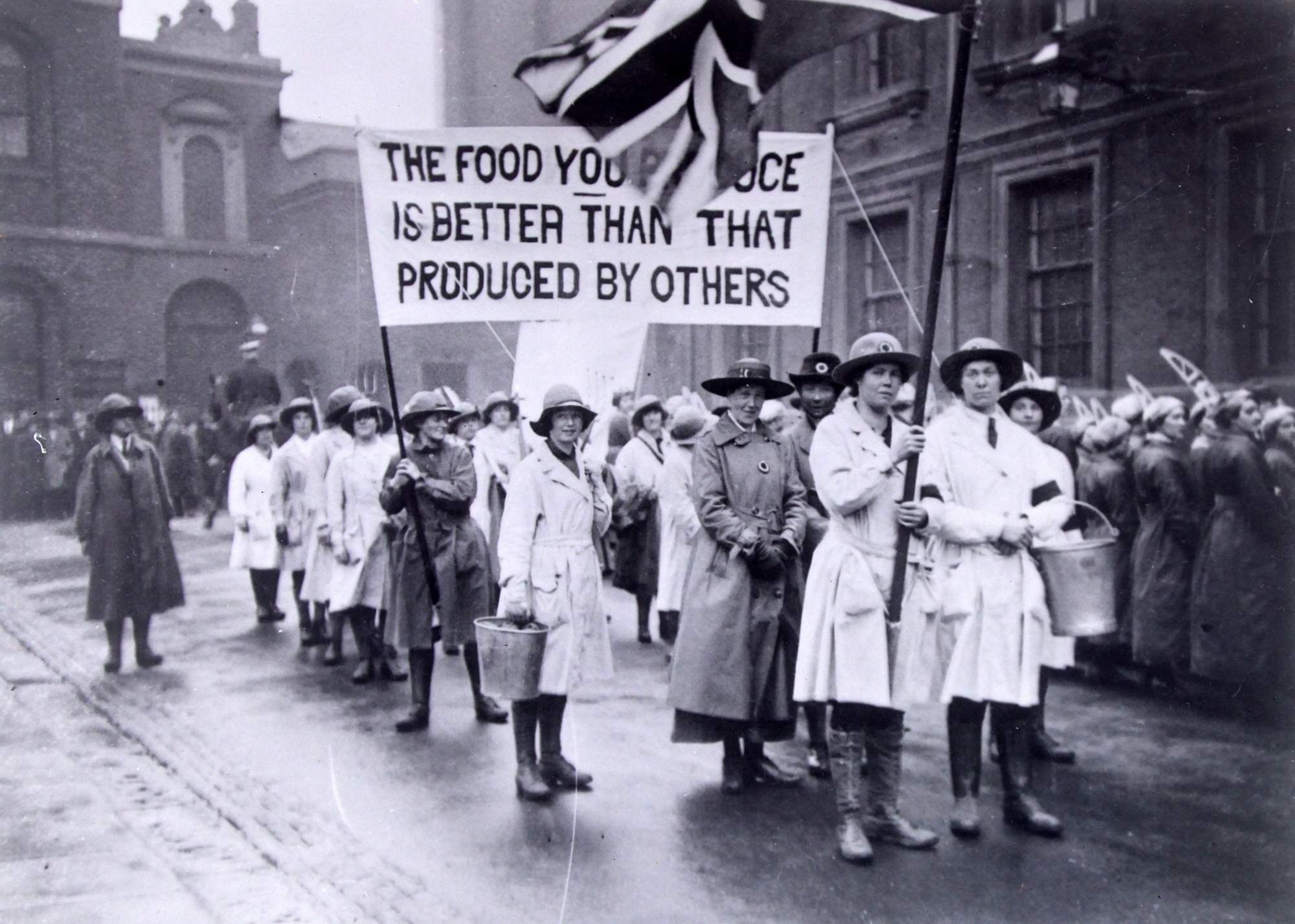 Roman Leicester
(47- 500) A military fort was erected, attracting traders and a growing civilian community to Leicester (known as Ratae Corieltauvorum to the Romans). The town steadily grew throughout the reign of the Romans.
Medieval Leicester
(500 – 1500) The early years of this period was one of unrest with Saxon, Danes and Norman invaders having their influences over the town. Later, of course, came Richard III and the final battle of the Wars of the Roses was fought on Leicester's doorstep.
Tudor & Stuart Leicester
(1500 – 1700) The wool trade flourished in Leicester with one local, a former mayor named William Wigston, making his fortune. During the English Civil War a bloody battle was fought as the forces of King Charles I laid siege to the town.
Georgian Leicester
(1700 – 1837) The knitting industry had really stared to take hold and Leicester was fast becoming the main centre of hosiery manufacture in Britain. This new prosperity was reflected throughout the town with broader, paved streets lined with elegant brick buildings and genteel residences.
Edwardian Leicester
(1901 – 1910) Electric trams came to the streets of Leicester and increased literacy among the citizens led to many becoming politicised. The famous 1905 'March of the Unemployed to London' left from Leicester market when 30,000 people came to witness the historic event.
Early 20th Century Leicester
(1910 – 1973) The diverse industrial base meant Leicester was able to cope with the economic challenges of the 1920s and 1930s. New light engineering businesses, such as typewriter and scientific instrument making, complemented the more traditional industries of hosiery and footwear manufacturing.
Modern Leicester
(1973 – present day) Industry was still thriving in the city during the 1970s, with the work opportunities attracting many immigrants from all over the world. While industry has declined in recent years, excellent transport links have made Leicester an attractive centre for many businesses. The City now has much to be proud of including its sporting achievements and the richness of its cultural heritage and diversity.
Change time period...
Roman Leicester
Medieval Leicester
Tudor & Stuart Leicester
Georgian Leicester
Victorian Leicester
Edwardian Leicester
Early 20th Century Leicester
Modern Leicester
Continue exploring
Civic Affairs

Your ultimate guide to visiting the city